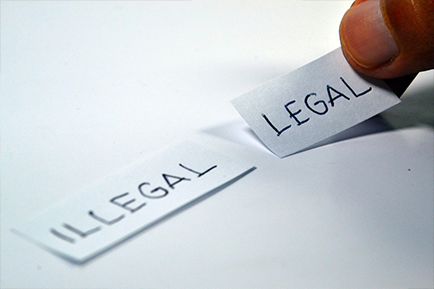 It's human nature to want to believe the best of people. We don't like to think that people might lie to us, or exaggerate their qualifications or experience. But when you're in the position of making decisions about employing people, then there are lots of things you can do to check up on the backgrounds of applicants. Obviously, the types of checks you do will depend on the type of job. For a low-responsibility job, you will want to do less rigid checking than when employing someone for a management position.
Am I Employing Someone Legally?
The most basic check which all employers in the UK should be doing is on right to work. It's the job of the Home Office to catch people who are in the UK illegally. But employers have to shoulder some of the burden too. Businesses who are found to be employing illegal workers can be fined up to £20,000 per worker. With such high stakes, it's worth having a good checking process. Most employers will ask candidates to bring their passport to interview. This is the simplest way of checking that firstly someone has the right to be in the UK, and secondly that they are allowed to work.
Disclosure Checks
Some positions require DBS checks as a matter of course. Healthcare and education are the main sectors with this requirement, but it could affect a surprising number of other positions too. Even if your job isn't one which requires detailed disclosure checking, you might still ask the candidate to apply for a basic DBS check. These checks are a confirmation of the applicant's current criminal record. Certificates will show any convictions or cautions which are not spent under rehabilitation law. If you have a DBS checking policy then this should be applied evenly and fairly, rather than picking and choosing who to check.
References
It doesn't cost anything to thoroughly check references so it's amazing that so many employers don't bother. Remember that by law, companies don't have to give a reference. Many just comfirm that a person worked with them between certain dates. Many are reluctant to put any more into writing. If you call them and speak in person you might get a more honest account of a person's conduct. Check email addresses carefully. If you're sending a reference request to a gmail, hotmail, yahoo account or similar, you don't really know who it is going to. If you don't hear back from a referee, ask the candidate to supply another name.
Social Media Checks
Another cheap and easy method for checking who you're employing is to spend half an hour going through their social media accounts and online presence. Most people are sensible enough to either lock down their social media, or make sure they're not posting anything offensive or inappropriate. Google their names, look up their LinkedIn profile and check that the details online match what they've said on their application. This is obviously a much easier task if your applicant has a relatively unusual name.